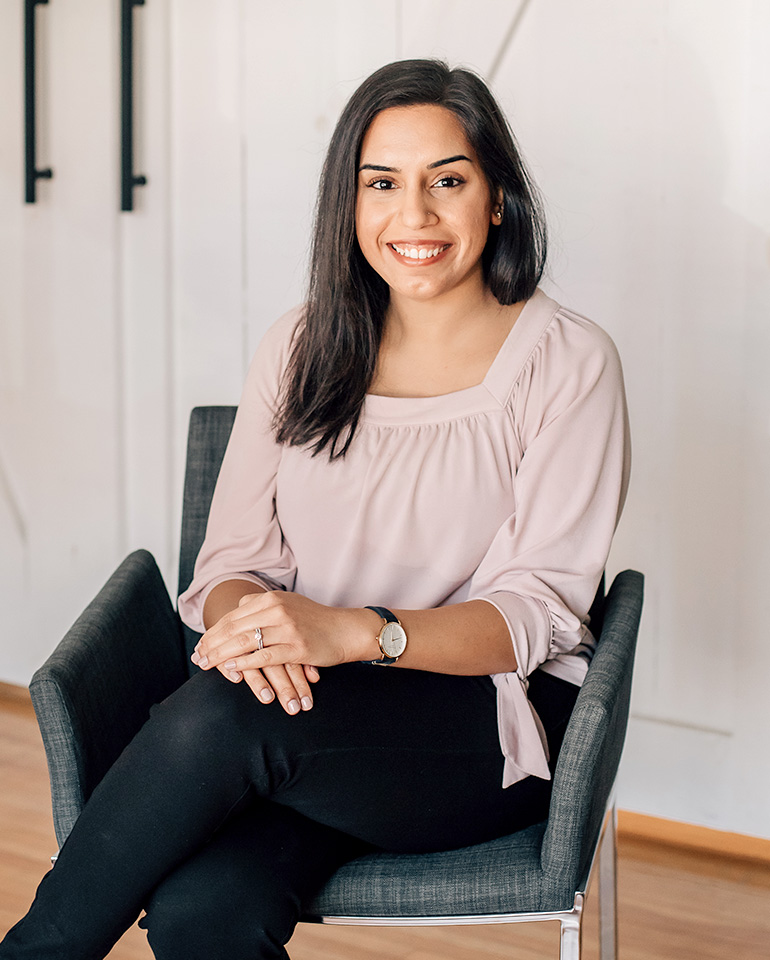 Dr. Navleen Arora, Naturopathic Doctor
Dr. Navleen, ND is a registered Naturopathic Doctor in Ontario. She graduated from the Canadian College of Naturopathic Medicine, and prior to becoming an ND, she completed her Honors Bachelor of Science at McMaster University. She is passionate about providing evidence-based integrative care to address concerns related to women's health (such as PMS, menstrual concerns, PCOS, menopause) and hormonal health for both men and women (thyroid balance, adrenal support, metabolic health).  Dr. Navleen also is seasoned at helping patients managing stress, anxiety and burnout as well as chronic pain.
Dr. Navleen encourages her patients to take an active role in their own health, and works closely with each patient to create a personalized treatment plan that meets their unique needs. Your initial visit is a comprehensive discussion about all of your health concerns and a thorough health history review. Dr. Navleen goes above and beyond to get to the root cause of your health issues, with your best interest at hand. This may include ordering comprehensive lab tests such as full hormone evaluations, complete thyroid panels, vitamin deficiency work up, and anything else that may pertain to your specific health concerns.
She uses various strategies to help her patients such as nutrition, lifestyle counselling, herbal medicine, acupuncture, cupping, and bio-identical hormone replacement therapy.
Dr. Navleen strives to provide the most up-to-date, evidence based care for her patients. She has actively pursued continued education to ensure that she can continue to provide the highest standard of care.
She has completed additional training in:
Advanced Practice MHT: Comprehensive Training in Menopausal Hormone Therapy

Evidence Based Approach to Hashimoto's Disease

PCOS: From Research to Practice

Facial Rejuvenation and Cosmetic Acupuncture

Prescribing and Therapeutics Course
Dr. Navleen is in good standing with the College of Naturopaths of Ontario (CONO). She is also a member of the Ontario Association of Naturopathic Doctors (OAND), and the Canadian Association of Naturopathic Doctors (CAND), and holds prescribing rights in Ontario.
Some fun facts about Dr. Navleen: Along with English, she can also speak Punjabi and Hindi. When not working, you can usually find Dr. Navleen reading a good book, spending time outdoors, or trying out new recipes in the kitchen.
Videos Featuring Dr. Navleen
OUR PRINCIPLES
First, to do no harm.
To cooperate with the healing powers of nature.
To address the fundamental causes of disease.
To heal the whole person through individualized treatment.
To teach the principles of healthy living and preventative medicine.