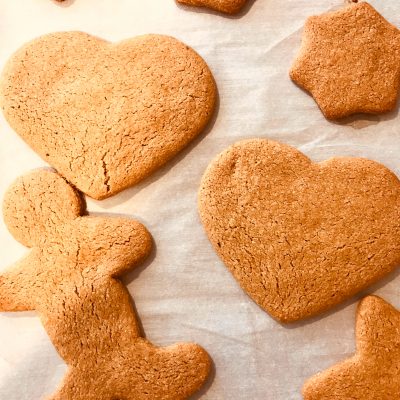 Ingredients:
1 1/2 cups almond meal
1/4 cup arrowroot flour
1 1/2 teaspoons ground ginger
1/2 teaspoon ground cinnamon
1 pinch of ground cloves
1 pinch of ground allspice
1/8 teaspoon fine sea salt
1/4 teaspoon baking soda
2 Tablespoons melted butter (or coconut oil or vegan butter)
1/4 cup pure maple syrup
1 tablespoon blackstrap molasses
Extra arrowroot or tapioca starch, for rolling & cutting
Directions:
Preheat oven to 350F. Line a baking sheet with parchment paper. Combine the dry ingredients: almond flour, arrowroot flour, ginger, cinnamon, cloves, allspice, salt, and baking soda and stir to combine. Add in the melted butter, maple syrup and molasses and stir again until a sticky dough is formed.
Place dough in the freezer for about 30 minutes wrapped in parchment paper. Remove from freezer, and place the dough in the center of a large piece of parchment paper and sprinkle it with a bit of arrowroot flour OR put another piece of parchment paper on top of the dough and roll overtop of the parchment paper. Using a rolling pin to roll the dough into a flat sheet, about 1/4-inch thick before cutting shapes out with your cookie cutters.
This dough was one of the easiest gluten free gingerbread doughs I have ever worked with. I did find that it would get a little too soft if left out at room temperature for longer than 30 minutes, but overall this was a fantastic recipe and will definitely use it as my new go-to. Taste and texture is very similar to the gluten laden versions of gingerbread.
Thank you @Detoxinista!